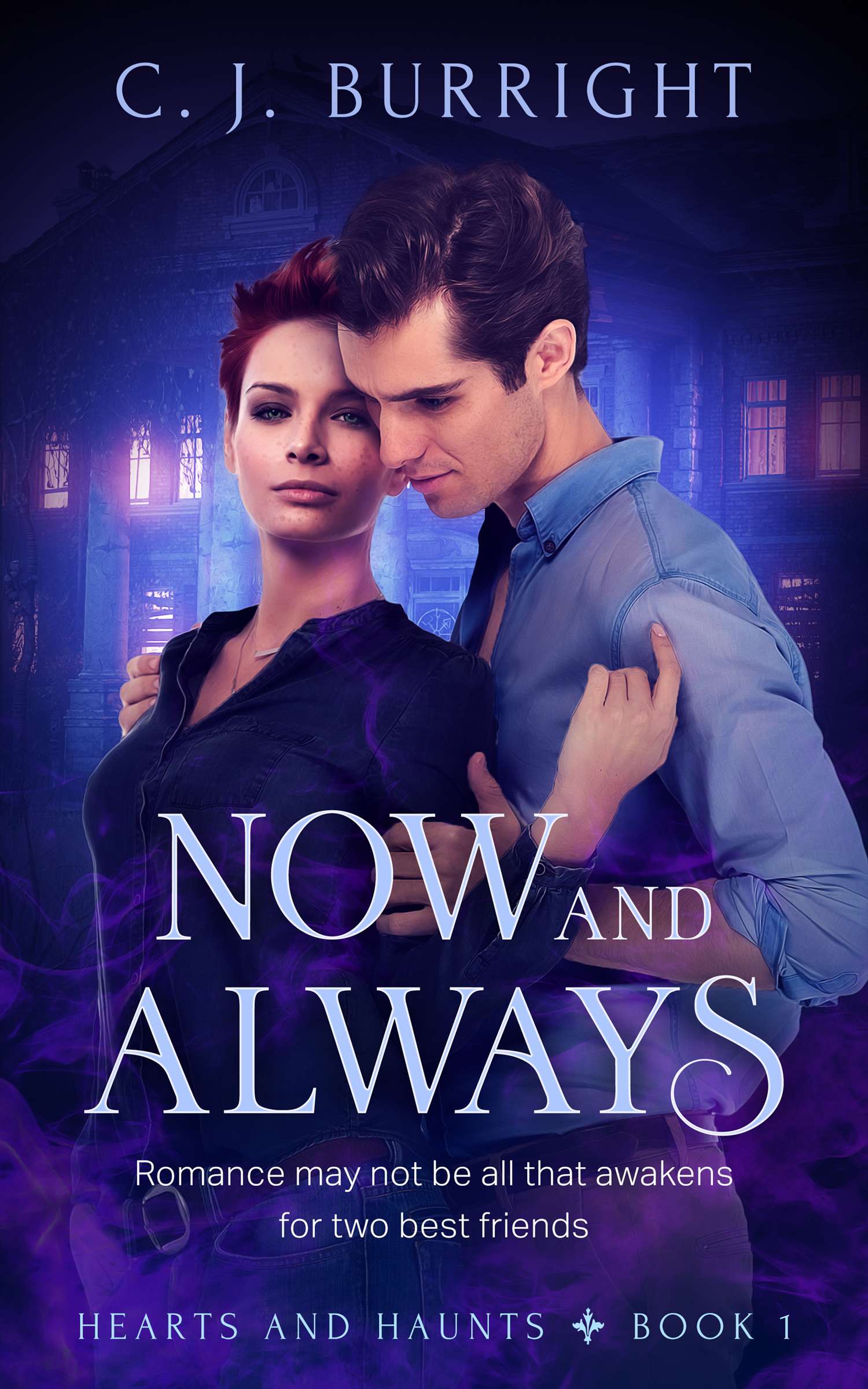 Hearts and Haunts Book 1
Paranormal Romance
Date Published: 01-10-2023
Publisher: Totally Bound Publishing
Romance may not be all that awakens while two best friends renovate a mansion rumored to be haunted.
If you kiss your best friend…
Halloween-loving Ren needs a new job. The only problem? The sole accountant opening in her small town requires construction experience, which are skills she lacks. Luckily, her best friend Leo— sexy, grumpy and completely off limits— is a construction hotshot. Their relationship is perfect as is, and, despite the intense chemistry, Ren refuses to ruin it with romance. Leo agrees to teach her, with one condition— she must live on site with him… and somehow survive the temptation.
You' d better be sure…
Skeptic, sword-swinging Leo has loved Ren since she mistook him for a hardware employee in the plunger section two years ago. While he took his time winning her trust, she caged him in the friend zone. He' s done hiding his feelings, and living together— working, sleeping, playing— at the Gothic mansion he' s renovating will convince her that best friends make the best lovers.
It' s meant to be forever.
Ren resolves to resist Leo, even if he bends every rule. Discovering the mansion' s secrets— and lingering spirits, no matter what Leo claims— offers distraction enough. But with her defenses splintering, one kiss is all it takes to shatter every boundary, one night of passion to believe in happily ever after… and one crumbling letter of unrequited love to awaken ghosts forgotten. If Ren and Leo can' t piece together the past for two lost souls, they might lose more than their hearts.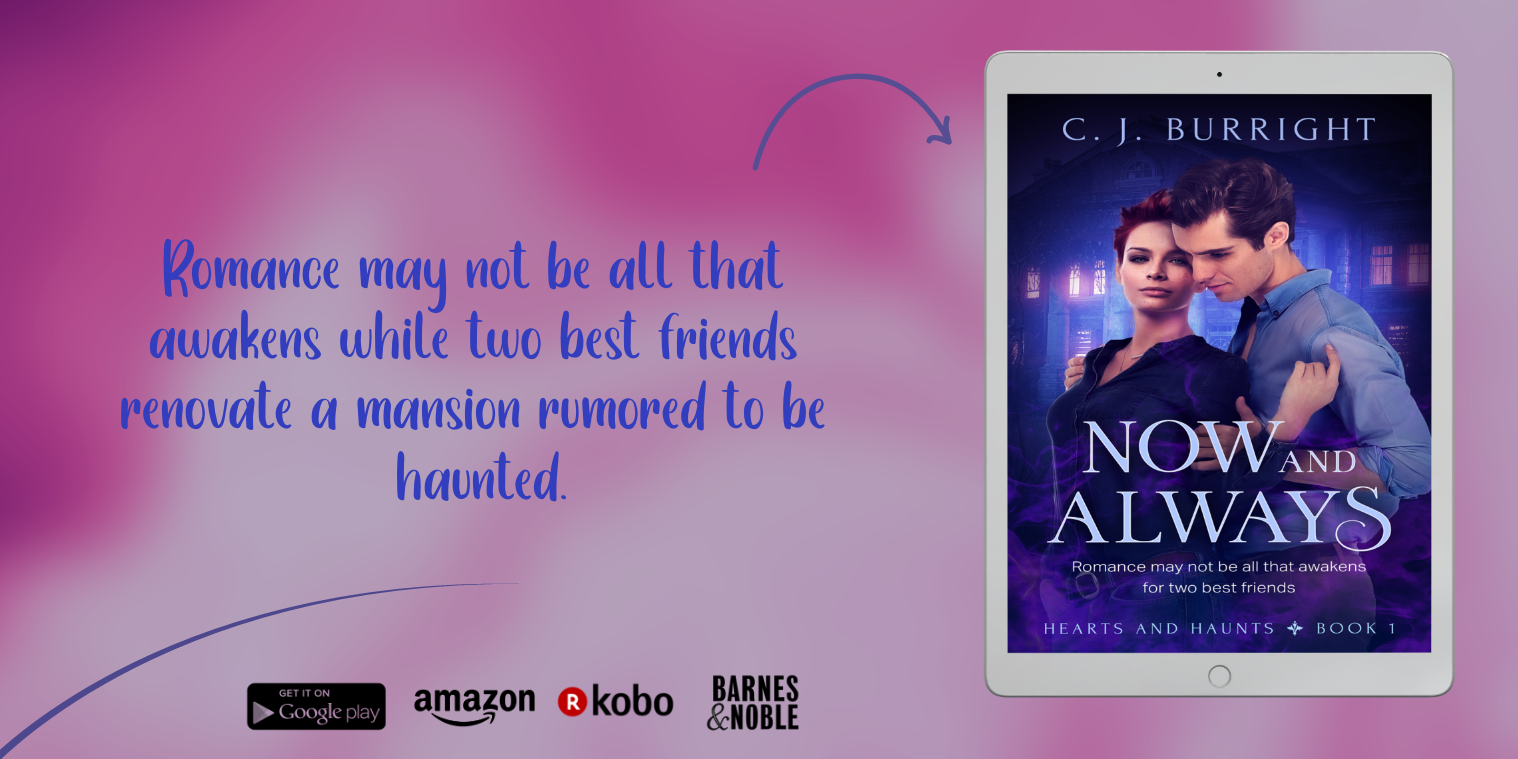 EXCERPT :
Before the lunch hour had hit on Monday, Karen visited human resources, applied her saved vacation and personal time off so she could work part-time. She used Tuesday and Wednesday to finish up bookwork. Thursday at noon, she ditched the office and packed her suitcase. She made it to the gravel driveway leading to the Granton estate in time for afternoon cocktails. The mighty iron gate leading to the mansion, locked every time she'd driven by before, was opened wide in welcome.
Excitement shivered through her as she drove through the gate, and the crowding trees offered new glimpses of the building's pointed, Gothic gables. Diamond-paned windows flashed like waterfall spray in sunlight, liquid and magical. The woods opened up into a roundabout drive circling a cracked, dry fountain and she got her first full look at the mysterious GrantonHall.
"Wowza." Karen parked her car beside Leo's motorcycle and got out for an unobstructed view. She knew Leo had some serious cash, but this must have cost most of his hard-earned fortune. The steep roof and killer gables made it seem taller than two stories high, not including the attic. Walls tangled with ivy and made of gray stone added a foreboding beauty. It would make the perfect horror movie setting. She couldn't hide a grin. Leo probably wouldn't appreciate the irony.
A fractured stone walkway, hardly more than a trail, led through weeds and overgrown grass to the mansion's front porch. An occasional sculpture weathered by years and negligence added a cemetery vibe. Matching faun statues flanked the entryway, lichen oozing from their eyes and leering mouths, ivy shackling their limbs.
She couldn't wait to see what hid inside.
Suitcase in hand, she stepped toward the walkway and paused as a tremor rolled down her back. Maybe it stemmed from delight at discovering Granton Hall's secrets. Maybe it came from taking a dive into the unknown.
Or maybe the man stepping from the porch and heading for her, his lopsided smile aimed at her, sparked her imagination to life.
Her pulse kicked into race-car speed. Best friend. Not made for jumping.
That was a total lie. There was no better specimen for a girl to jump on, grab ahold of and explore every wicked daydream with. Leo's collar length hair would be perfect for her fingers to tangle in. Too many times to count she'd wondered if his mouth felt as soft as it looked. His body was sculpted from a foundation of sports and horseplay with four brothers, perfected by hard labor and the Hughes clan fighting with swords, light sabers or the weapon of the week. A few of those muscles tempted her from beneath his long-sleeved T-shirt and faded jeans. Had he been any other man, she'd be drooling.
But Leo wasn't any other man. She had to keep things cool…somehow.
"Hey, Ren." He took her suitcase and pivoted to face Granton Hall with her. "What do you think?"
Karen did her best to ignore the heat radiating from him, the scent of cedar and sawdust that always clung to his clothing and instead focused on the mansion before her. Shadows and secrets lurked in every corner, from the stained-glass windows frowning from the second floor to the moss-filled crevices in the stone walls. A black iron fence caged one side of the building, a subtle warning to keep out. No light glowed from within, as if Granton had already dismissed Leo's presence as a passing memory.
"It's everything I imagined—stark, arcane and breathtakingly Gothic. Splendidly chilling. I'm shocked you went in there alone." She smirked sidelong at Leo. "Did you check under the stairs for demented clowns with chainsaws?"
"Yes," he said, utterly serious, "I did."
"Are you sure you're up for living here?"
"With you to protect me, I'm feeling pretty good about my odds." Hefting her suitcase as if it weighed no more than a goldfish, he led her past the statues guarding the entrance.
Karen followed, savoring each soft step of her boots on moss-fuzzed pavestones. It was a true testament of her willpower that she managed to drag her gaze away from Leo's fine backside to the looming mansion. She slipped into the shadows cast by the gabled roof and shivered at the sudden cold. Dead leaves gathered in the corners of the covered porch, and dry husks of moths dangled from cobwebs in the rafters. A stand of pale toadstools crouched beside a faceless gargoyle.
"How long has it been since anyone lived here?" she asked, catching up with him as he reached the porch stairs.
"Decades. Careful of the steps." He frowned as the planks creaked under his boots.
"How much you want to bet someone died here?" The wooden steps groaned and threatened to buckle beneath her, and she jumped to the safety of the porch. "Or better, was murdered?"
"How is being murdered better?"
"You know, restless spirits. Secrets in the attic. Monsters in the basement."
"You watch too many horror flicks."
"Not possible. You're supplying popcorn, right?"
His lazy smile reappeared. "Movie buttered, caramel, chocolate dipped—I've got you covered."
"I knew there was a solid reason why we're friends."
"So many reasons." The blue of his eyes deepened. He held her gaze as he opened the front door wide. "After you, darling."
Her pulse quickened, and she forced herself to focus on the vines and roses carved into the door before her imagination took over. She slipped her hands into her coat pockets to prevent any touching mishaps as she passed by. That didn't prevent his heat from caressing her neck when her shoulder brushed his chest or the goosebumps on her arms. She crossed the threshold into the mansion, and electricity tingled through her, as if she'd shifted between one world to the next.
About the Author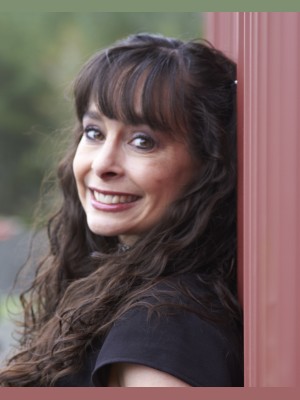 Once upon a time, a girl with flat hobbit feet dreamed of adventures in the woods with an elven hero, fighting off orcs and saving magical rings. All grown up now, C.J. Burright resides in Oregon (at least she got the trees). While she faces her duties at the law office day job, she avoids writing legal thrillers and instead turns toward romance—contemporary (sometimes with a supernatural flair), paranormal or fantasy. With a 5th Dan Black Belt in Tae Kwon Do, it's no surprise she prefers feisty heroines who aren't afraid to jump into the fight. Her slivers of spare time are spent working out, gardening, playing the latest Assassin's Creed, and rooting on the Seattle Mariners, always with music. She shares a house with her husband (not elven, alas, but a fine alternative) and a devoted cat herd while missing her daughter from afar. C. J. is represented by Brittany Booker of The Booker Albert Literary Agency.
Contact Links
Purchase Links
a Rafflecopter giveaway
https://widget-prime.rafflecopter.com/launch.js